It looks like have yet again lost the genetic doodle lottery in terms of seasonal shedding (Luna shed seasonally as well).  The last few weeks as it's been getting warmer there's been an increase in hair "tumbleweeds" around the house and I've noticed more mats in Riley's hair during her daily brushing.
I spent a good part of my day today attacking Riley's coat with a de-shedding rake and got about a soccer ball sized amount of undercoat.  She feels a lot less "bulky" now but I'm definitely not done yet!  
I initially started using a combination of the pin brush and metal comb:
It worked okay but the comb felt quite inefficient and the pin brush wasn't getting a ton of hair out.
I switched to this style of undercoat rake: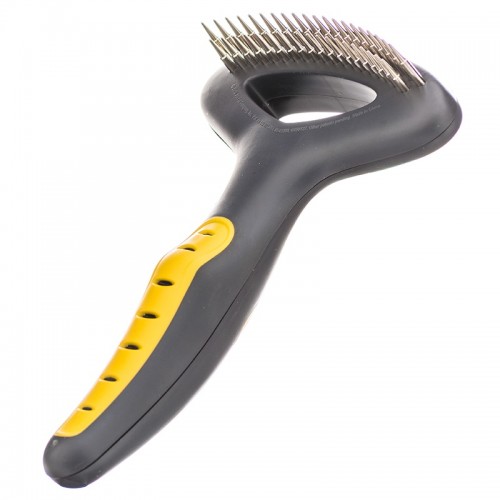 That seemed to work a lot better but I'm not sure it's the right tool... though it does sound like that's what it's supposed to be for.
Any tips?  We have a furminator too though I think it's the kind that's supposed to be for short coated dogs and would damage Riley's hair.
I may just be in need of some technique tips since with Luna I would just brush her hair in short strokes with the grain and that's all that was needed.
Riley's hair is quite long though and the short strokes don't work too well.