Luna and I enjoy our morning strolls.  The temperature is lovely, not too much sun and it's nice and quiet.  It's even better on weekends when daddy can join us!  We stop to enjoy the countryside, smell some flowers... it's generally a relaxing start to our day.
Today we were out for a stroll... and bonus, Luna found one of her friends at the park at the start of her walk!  There was much joyful greeting and some rough housing.
All of a sudden Luna went absolutely rigid, "pointing" at something in the distance and barking a VERY ferocious bark.  I look over and what is it?  
Something like this:  Party balloons floating away from a house.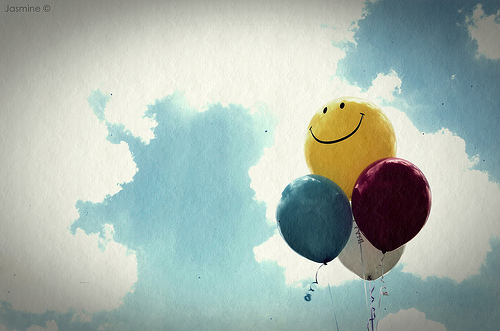 Apparently according to Luna... UFOs are extremely dangerous and not to be taken lightly.  It gets stranger... Luna LOVES seeing flying birds and likes to think she can catch them.  She usually gets very excited and tries to chase them, especially big birds like crows and seagulls.  She has made multiple attempts to catch red-breasted robins on the wing since they fly so low.
What did she do about the balloons?  Barked at them viciously then tried to RUN back towards our house.  Thankfully DH had a firm grip on her leash, we've never seen her pull so hard!  She was absolutely TERRIFIED of those scary ballons!
I'm pretty sure she wanted to do find her way back to her bed and do this:
The rest of the walk Luna's tail was halfway between her legs and stiff.  I guess she saw something sinister about those balloons...Luna has never been a courageous dog, but you'd think at the age of 3 she would be a bit more confident!